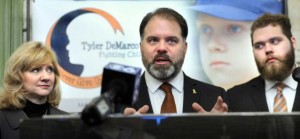 Our mission is inspired by Tyler's love, compassion and determination to change the course of childhood cancer for other children who will follow.  Throughout his tragic personal experiences Tyler declared that "No kid should have to go through this" and created the following goals we now lovingly call – Tyler's Wish:
Private Room Project
– COMPLETED! (01/2015)
"Children and their families are not prepared, equipped and are often unable to reasonably function when their child is suddenly diagnosed with cancer. The emotional, physical, financial and mental burdens are catastrophic.  The reality of childhood cancer is incomprehensible because childhood cancer is so unpredictable. These children and families deserve their privacy and seclusion if they so choose. Cancer treatments are harsh and severely compromise the immune system of young cancer patients. This makes "room-sharing" a risky and serious issue!" – Don DeMarco
In 2010 the Tyler DeMarco Foundation approached Albany Medical Center Administrators and proposed our idea to create a suite of 6 to 10 private rooms specially designed for children treated for cancer at the Children's Hospital. Appreciating our concerns, Albany Med. offered to research this potential. Due to the limitation of available space our initial proposal was reduced to 1, possibly 2 rooms. Tyler DeMarco Foundation committed $50,000.00 in gift funding to move this project forward. As our efforts progressed so did the understanding, desire and commitment of the Albany Med. Administrators; they soon developed a new plan to move forward with our initial proposal. In 2013, Albany Medical Center made a commitment to build a brand new pediatric suite hosting 11 private rooms for the specialized needs of children with cancer.  In January 2015 the construction of the new suite of private rooms was completed and placed into service!
Tyler DeMarco Foundation Endowment for "Journeys"
The Tyler DeMarco Foundation Endowment for "Journeys" was started with our funding gift of $80,000.00 and builds on the "Journeys" Program already in existence at the Children's Hospital at Albany Medical Center. The Tyler DeMarco Foundation Endowment for "Journeys" provides vital services specific to pediatric cancer. Services include; palliative care, latest treatment therapies, family centered medicine and special need items to address quality of life issues.
Cancer Research
Since 2010, Tyler DeMarco Foundation has gifted over $30,000.00 in support of targeted cancer research conducted at St. Jude Children's Research Hospital (Memphis, Tennessee). New advancements and treatment protocols developed by St. Jude become the standard protocol of care world-wide. There are many vital components crucial to the treatment, care and well-being of childhood cancer patients but it's the research that will ultimately find the cure.
---
As of December 13, 2016 the Tyler DeMarco Foundation has granted a total of $193,000.00 in support of our mission as defined above.
"No kid should have to go through this"
-Tyler DeMarco