Our Mission:  To preserve the memory and fulfill the wishes of Tyler DeMarco by:
Funding the creation of private rooms designed for the special needs of pediatric cancer patients at the Children's Hospital at Albany Medical Center

– COMPLETED! (01/2015)

Creating and funding the Tyler DeMarco Foundation Endowment for "Journeys" at the Children's Hospital at Albany Medical Center providing palliative care, latest treatment therapies, family centered medicine and special need items for quality of life issues to pediatric cancer patients.
Funding cancer research at St. Jude Children's Research Hospital to cure Medulloblastoma, the most common type of childhood brain cancer.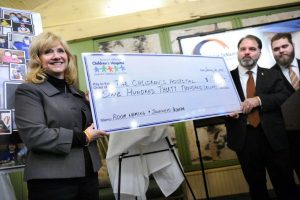 "Our mission is motivated by the love, compassion and determination Tyler demonstrated everyday of his life. In Tyler's darkest days and until the very end – he was selflessly determined to make a difference for children with cancer. Childhood cancer may have ended Tyler's life, but it will not end his legacy!"       – Don DeMarco
Tyler DeMarco Foundation is a 501 (c)(3) Tax-Exempt Nonprofit Public Charity managed by a volunteer Board of Directors. No compensation or salaries are paid. 100% of all contributions/donations we receive go directly into the above goals set-forth and defined by our Mission.
We are forever inspired by how Tyler chose to live and are encouraged by his words for perseverance …
"Never Give Up"