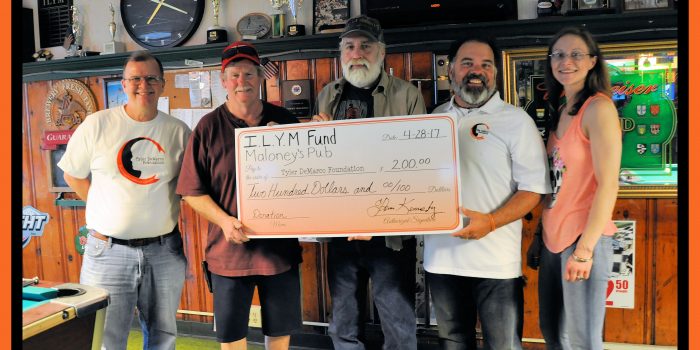 These easy-going, fun loving, wonderful men and women from the ILYM Fund (I Love You Man) at Maloney's Pub (State Street – Schenectady, NY) contacted us last year to inquire about Tyler DeMarco Foundation. They wanted to know more about who we were, the story behind how we were formed and the details of our mission. I was then asked if I could meet with the group and provide a presentation of sort and I gladly did. It didn't take but a few minutes to understand the heart of this wonderful, caring and sincere group. A few weeks later they held a pool tournament and raised over $1,000.00 in donations for Tyler DeMarco Foundation!
Our friends at Maloney's weren't able to hold the Pool Tournament Fundraiser this year, but that didn't stop them from doing what they do – supporting valuable causes and sharing their love. Last night ILYM Fund presented us with a check for $200.00! This is what Guy Hildreth had to say …"Once we heard your story and learned about the wonderful things you've accomplished in your son's memory we wanted to continue our support in any way we can. It's not much, but we know every little bit counts. The pool tournament didn't happen this year, but it's on again for next year!"
THANK YOU, ILYM Fund at Maloney's Pub … We Love You Too!