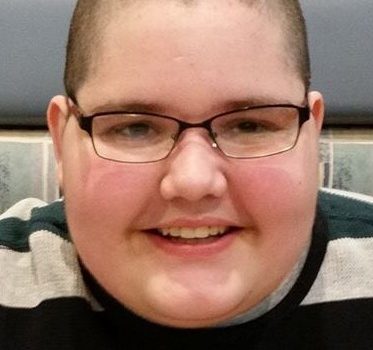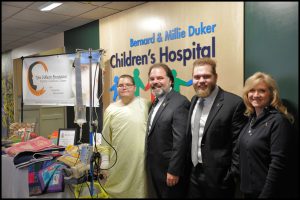 For those that follow our posts you may recall our donation to the Children's Hospital last month (Dec. 12, 2016) when we were greeted by Justin Bruckbauer (16) who was a patient in one of the private rooms we pioneered. When Justin heard we were there he insisted that he be allowed to come out and meet us so he could say thank you for what we have done, and continue to do for the Children's Hospital. This young man couldn't stop shaking our hands and expressing his genuine appreciation. Justin was personable and poised despite his weakness and physical difficulties as he pushed his IV pole everywhere he went. Sadly, we are heartbroken to share with you that Justin has recently passed away.
It's always difficult to understand why so many children must experience such pain, difficulty and heartache only to fall victim to the ultimate demise. But I realize, if I force myself, that the ultimate demise is a place of peace. Its us, the ones left behind that now suffer! We suffer the physical loss of our children; no more watching them, hearing their voice, smelling their hair (or lack thereof), holding their hand or hugging them tight. No more silly moments. No more milestones. No more will-be… it's all gone now! Sure, we hold onto countless wonderful and precious memories; but its the memories of your child's eyes during their brave and courageous struggle to live that remains emblazoned in and on our mind – and it overshadows all else! It's incomprehensible to think that we must move forward without them. For some of us, we can't… It's just that bad!
Justin Jon Bruckbauer, 16, AKA "Tanto," "JB," "JBZ," "Love Bug," of Amsterdam, entered eternal life on Friday, Jan. 27, 2017, at St. Mary's Hospital, Amsterdam, N.Y., with his loving family at his side following a courageous battle.
Born in Amsterdam, N.Y., on Oct. 20, 2000, the son of Karen Rivera Ortiz and David J. Bruckbauer. He was a lifelong Amsterdam resident and attended Gloversville Schools. Justin was currently a 10th grader at Gloversville High School.
Justin enjoyed going to school and doing his school work. He loved learning and never wanted to miss school. His goal was to have a career and work with cancer patients, and he wanted to study to become a nurse practitioner. He always worried about everyone else and not himself. Justin studied the bible and enjoyed mythology and superheroes. His faith in God inspired his mother, family and all. He truly had a mission here on earth. Justin also loved music and listening to it with his "Beats" head phones.
He is survived by his loving mother, Karen Rivera Ortiz of Amsterdam; his father, David J. Bruckbauer of Florida; grandfather, Rafael Vega of California; aunt, Cynthia Rivera of Amsterdam; aunt, Nancy Rivera of Amsterdam; aunt Tajarai Rivers of Easton, Pa.; aunt, Myra Santiago of Amsterdam; uncles, Victor Torres of Gloversville and Alfredo Bermudez of Bronx, N.Y; dear cousins, Michael, Christopher, Isaiah, Gumby; special doctors, nurses and caregivers, Matt Hickling, Mckenzie Weathermax, Ashley Gross, Sara Collesides, Clifford Estaris, Monica Rohan Blanchard, Eldred Andre, Dr. Alex Gozman, Dr. Jennifer Pearce, Dr. Kanwar, Dr. Porter, Dr. Weintraub, Dr. Boucher, Angie Lilipigno and Courtney; social workers Lisa, child life specialist, and the rest of D-7 and PICU nurses at Albany Medical Center; aides, Mark Jones, Nikkie Dedrick, Mansour, Dan Glissan, Justin, and Scott Whipple. Many classmates and friends also survive.
Justin was predeceased by his beloved grandmother, Lucy Vega.
A celebration of Justin's life will be held on Friday, Feb. 3, 2017, at 1:15 p.m. at the Betz, Rossi and Bellinger Family Funeral Home, 171 Guy Park Ave., Amsterdam. A special balloon ceremony will be held outside immediately following the service to remember Justin. Please leave condolences online at www.brbsfuneral.com.