ALBANY TIMES UNION
By Claire Hughes
Tuesday, January 10, 2017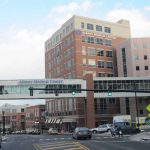 ALBANY — Construction on an emergency department exclusively for children will get underway at Albany Medical Center this spring, hospital officials announced Tuesday.
The planned $50 million, 70,500-square-foot facility, expected to open in 2018, will be the only 24/7 emergency department of its kind in northeastern New York and western New England, according to the medical center. Construction will begin after demolition of the building that currently houses administrative offices for Albany Med's emergency department. It will be adjacent to the current ER.
The medical center already has a 1,000-square-foot space dedicated to children within its emergency department, but it is not open round-the-clock.
Albany Med sees about 16,000 children for emergency visits. Most of those children are treated and sent home, but about 20 percent are admitted to the hospital for further care.
The planned children's ER will include private rooms, X-ray and other imaging services, a fast-track unit for children and teens with less serious conditions, and negative-pressure rooms for those suspected of having contagious diseases. The decor will be kid-friendly with child-sized equipment, according to Albany Med.
The medical center hopes to raise $20 million of the project cost through private donations.
According to information released on the proposed project last summer, the medical center intends to hire 29 additional doctors and nurses to staff the pediatric ER.
Albany Med is a 716-bed academic medical center, which responds to trauma cases in a 25-county region.