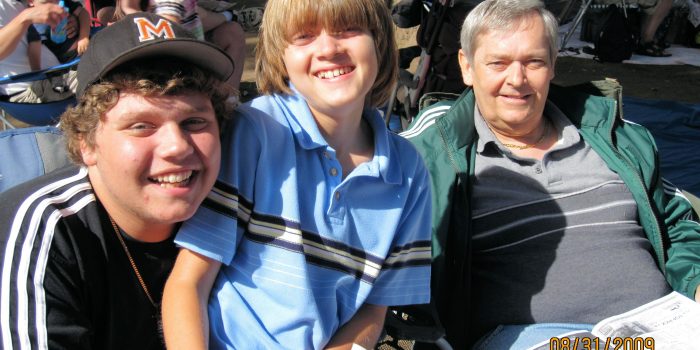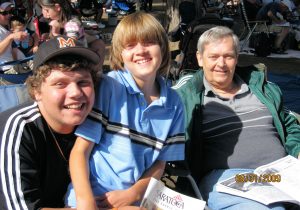 Compounded Loss and Sadness this morning …
IN LOVING MEMORY of OUR DEAR FRIEND:
FRED GRABERT
February 1, 1954 – May 16, 2016
4AM and here I sit yet again and unable to sleep, for on this day is Tyler's 19th birthday. This marks the 7th year Tyler has spent his birthday in Heaven. It's been nearly seven years that we have watched Tyler grow – only in our mind. In reality he remains forever 12. No proms, no graduations, and, no birthdays. The world moves on but we don't, we can't. But we do try to move forward. It's always a constant battle for us, a struggle actually. Much like a sadistic head game; so many wonderful and beautiful memories immediately clouded by four years of horror and how much he/we've missed. It all plays in our minds like a randomly spliced movie that constantly loops in our brain and never stops. Every day is difficult. But on days like this it's crippling.
Certain people understand this better than others. One of those people, a long-time, dear close friend is no exception; Fred. Fred is actually one of those individuals who we call a "friend" but in reality is more like "family". Fred is the guy who will insult you and cause you to smile. Fred is the guy who intentionally starts an argument for fun until you realize it is! Fred is the guy who's actually been everywhere and anywhere in the USA that you happen to mention. Fred is the guy who always has a cool new recipe. Fred is the guy that has an opinion on everything. Fred is the guy that can identify every 5 star restaurant even if it isn't. Fred is the guy who sees people for what they are and lets them know it. Fred is everything baseball. Fred is obnoxious about his Red Sox. Fred is everything Patriots. Fred is obnoxious about his Patriots. Fred is a meat connoisseur. Fred is the BBQ king.  Fred is the guy who's always there to help. Fred IS the 4th of July! Fred is the guy that will strike up conversation with anyone, anywhere no matter how bizarre the situation. Fred is the guy that can cause you to think about the "other" perspective. Fred is the guy who loves when friends get-together and visit. Fred is the guy with the king-sized candy bars on Halloween. Fred is the guy with the Honda push mower. Fred is the guy who randomly appears at the front door with milkshakes for all! Fred is the guy who sees in you what others don't. Fred is the guy who taught us everything we know about Saratoga Race Course. Fred is the guy who is a connoisseur of life. Fred is the guy you can trust. Fred is the guy who leaves a positive impact where-ever he goes (well, most of the time anyway). Fred is the guy who shows his love and appreciation if not through words, through action. Fred is the guy who deeply loves his Wife, Children, Grandchildren and friends. Fred is the guy who truly defines the term, Friend.
Fred is the guy whom Ryan and Tyler grew up knowing, trusting, appreciating and loving … and Fred, in his special way, treated them and spoke to them not as children, but as people. The bond between Fred, Ryan and Tyler is unique. Many summer nights were spent around the outdoor fire as Fred would engage in substantive conversation with the boys as marshmallows were roasted and assembled with their chocolate counterparts on graham.
Fred is the guy who shares our loss, and to this day cannot mention Tyler without shedding tears and expressing in words … "I miss my little buddy".
Fred is the guy who always wants to know the latest on Ryan and how he's doing. Fred is the guy who always looks forward to Ryan's visits.
You see, Fred is the guy we all search for in a friend … a real, true friend … you know, the one in a lifetime kind of friend?
So why do I mention Fred on this difficult day? I mention our dear friend Fred because he has been in the hospital for nearly three weeks. While in the hospital, just as he was scheduled to go home Fred experienced a critical medical event. For the past week Fred has been on life-support. The outlook for Fred is very grim and reminiscent. Today, on this day, Tyler's 19th Birthday Fred's family will be confronted with a incomprehensible decision; the same decision he and his Wife shared with us as we agonized in that hospital room as Tyler lay on life-support nearly two months prior to our crushing loss. So today, this day, I ask that those of you who pray – to pray for our dear friends Fred and his incredible, loving, beautiful family. We love you, Fred!
"Be now with Jesus and your little buddy"