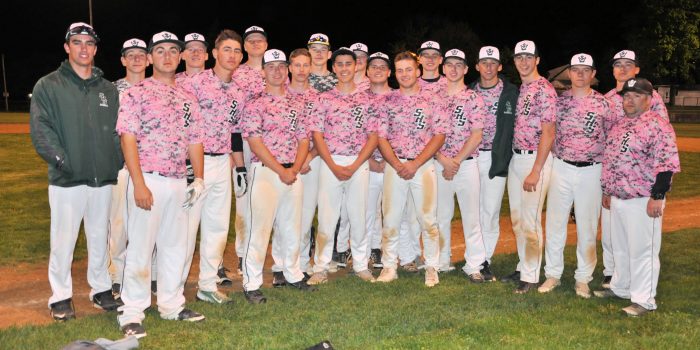 On Tuesday May 10th the Sabres eked out the win against Waterveliet in the 2nd Annual Schalmont's Strikeout against Cancer Benefit Game held at the Rotterdam Babe Ruth field on Broadway. This was a double header for Schalmont who minutes earlier shutout Ichabod Crane 2 – 0.
It was a fierce battle into the crisp late night air as the competition extended eleven innings until the Sabres closed the game with a 12 – 11 win. Winning this game was a big deal for the Sabres when you consider the majority of this team shared their formative years alongside Tyler as Little League team-mates; young boys who watched Tyler's progression through cancer.
Thanks to the hard work and dedication of Coach Christopher Teta, the entire Sabres team and their families, a total of $1,400.00 was raised benefiting Tyler's Foundation in the Fight against Childhood Cancer.
We also want to acknowledge Mr. Dan DiSorbo and the Silvestri family for their thoughtful donation of two Yankee tickets. Mr. DiSorbo graciously sold raffle tickets throughout the game and raised an additional $200.00 that he generously donated back to the Tyler DeMarco Foundation. Mr. Mike Gilmore was the lucky winner of the Yankee Tickets. The addition of the $200.00 brought the Schalmont Strikeout against Cancer event grand total to $1,600.00!
We humbly thank the Schalmont Sabre's Baseball family for your hard work, support and all your efforts to Strikeout against Cancer … THANK YOU!