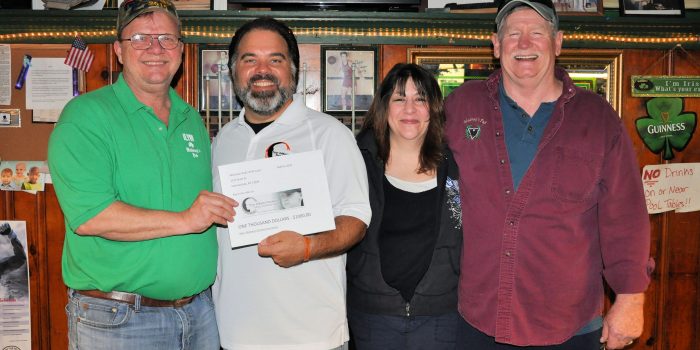 We recently received an email from a stranger, his name was Guy Hildreth. Guy wanted to speak to us in detail and learn more about our Fight against Childhood Cancer. Guy explained how he and his small group of friends from Maloney's Pub & Pool Hall had researched the Tyler DeMarco Foundation, read Tyler's story and have decided to support us by hosting a pool tournament to benefit our cause. Several years ago this group from Maloney's Pub organized and formed the ILYM (I Love You Man) Fund; a modest organization formed to honor the past and present brothers and sisters of the Maloney's Pub & Pool Hall family through philanthropy.
On April 30th a pool tournament was held. We were invited to speak prior to the tournament and shared Tyler's story, our experiences, accomplishments, future plans and how Tyler is the force that drives our foundation. Here, in this small unassuming pub filled with regular, hardworking people is where genuine humanity shines; the attention, patience, interest, love and compassion we received from this small group of wonderful individuals enveloped us!
On Friday May 6th the Tyler DeMarco Foundation was presented with a check for $1,000.00 – provided by the ILYM Fund of Maloney's Pub.
To the Maloney's Pub Family we want to say … Thank you for your generous donation and new-found friendships!