The Tyler DeMarco Foundation wishes to thank former Buffalo Bills Linebacker and current book author Mr. Ray Bentley for his support during a two day appearance at the Albany Sports Card Show located at the Ramada Plaza in Albany this past weekend.  Mr. Bentley attended the event to promote his series of children's books and newly released novel, Driftwood 57.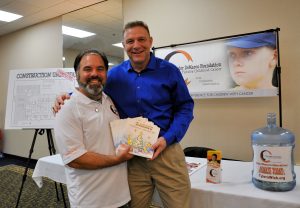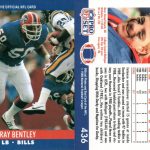 Mr. Bentley chose the Tyler DeMarco Foundation to accompany him at his book/memorabilia signing hosted by Albany NY Show Promotions. In lieu of fees associated with his personal autographs, Mr. Bentley asked fans to make a donation of any amount to the foundation. In addition to his monetary support, Mr. Bentley graciously signed and donated 60 of his children's book, Darby's "Christmas Adventure" and will ship another 250 books to the Tyler DeMarco Foundation slating distribution to the Children's Hospital at Albany Medical Center.
The event was a wonderful fundraising success for the Tyler DeMarco Foundation thanks to Mr. Bentley's support and profound interest in what we do, our accomplishments, statistical data related to childhood cancer and especially, Tyler and his story. We've had occasion to meet a variety of people from various walks of life and distinction; the two days we spent with Mr. & Mrs. Bentley and their son Rich has been one of the most enriching experiences we've ever had!
Thank you, Albany NY Show Promotion owners; Scott & Mike for your generous monetary donation, friendship and for setting up this wonderful event. Thank you Ray, Jodi & Rich Bentley for your monetary and material support and new-found friendships. Thank you also, to all of you who came out and donated – it was truly an amazing weekend!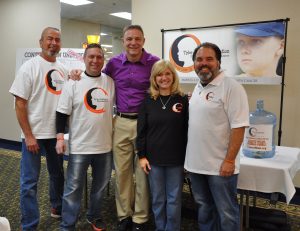 L to R: Mike, Scott, Ray, Pam, Don