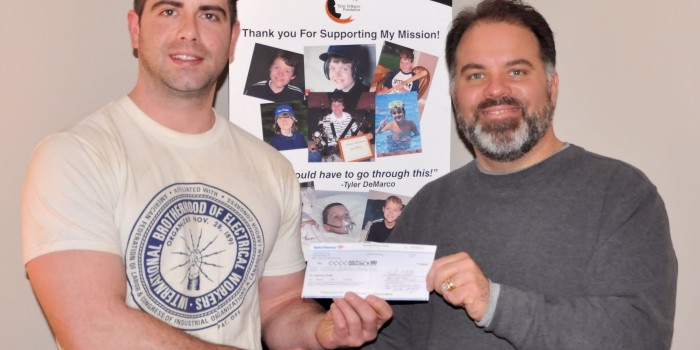 Tri-City JATC (Joint Apprentice Training Committee) http://www.tricityjatc.org/ provides New York with the best trained and highly skilled electrical apprentices; but it doesn't stop there.  Tri-City JATC is also committed to making a difference within the local communities it serves.  Through a newly established program TCJATC raised several hundred dollars and distributed those gifts to local charities.  On March 1, 2015 apprentice, Shane Taylor presented a check to the Tyler DeMarco Foundation for $250.00 on behalf of TCJATC.  Shane Taylor also happens to be Tyler's second cousin once removed.
"When we came up with this program I immediately nominated the Tyler DeMarco Foundation … Tyler was such an amazing kid and his foundation is doing so many positive things" – Shane Taylor.
We wish to thank Shane and Tri-City JATC for your thoughtful and generous gift!