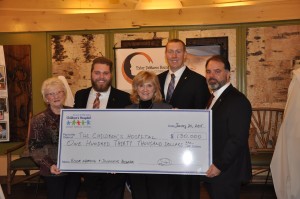 January 20, 2015 at the Bernard & Millie Duker Children's Hospital at Albany Medical Center we were able to honor Tyler and his final wish to Make a Difference for Children with Cancer.  With great honor, pride, and many mixed emotions we presented our donation of $130,000 to help pay for the new private rooms recently created for children being treated for cancer.  In addition, we have created the Tyler DeMarco Foundation Endowment for Journeys; a program which provides support and services for children with cancer and their families.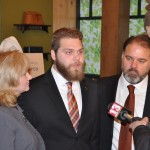 Tyler DeMarco Foundation also provided over 30 beautifully hand crafted bed quilts, blankets and pillow cases hand-made and donated by the ladies of "Hands of Mercy" at Trinity Baptist Church in Niskayuna, NY.  Hands of Mercy/Trinity Baptist was a great source of spiritual support for Tyler and our family and they continue that support through their gifted hands by providing comfort for the children who will be occupying the new private rooms.
We wish to thank our family, friends, foundation partners, the business community and the general public who have graciously supported the Tyler DeMarco Foundation making the fulfillment of Tyler's wish possible.  Please continue your support because we have much farther to go in Tyler's Fight against Childhood Cancer! 
"Never Give Up"
---
View PRESS RELEASE files (click below):
http://www.wgy.com/articles/capital-region-news-312698/rotterdam-family-gives-130k-to-albany-13167636
http://www.bizjournals.com/albany/blog/health-care/2015/01/albany-med-receives-130-000-donation-for-childrens.html
http://www.timesunion.com/news/article/Albany-Med-receives-130-000-donation-from-family-6028366.php#photo-7414061
View MEDIA VIDEO FILES (click below):
http://news10.com/2015/01/20/albany-medical-center-receives-donation-from-local-foundation/
http://www.twcnews.com/nys/capital-region/news/2015/01/20/donation-helps-to-fulfill-childs-life-wish-at-albany-med.html
http://wnyt.com/article/stories/s3682348.shtml?cat=10114
http://www.cbs6albany.com/news/features/top-story/stories/albany-med-receives-gift-cancer-victims-family-22555.shtml
Some photos of the event. Wonderful things are happening!
---
Tyler DeMarco Foundation Board of Directors:
Don DeMarco, President/Treasurer, Pam DeMarco, Vice Pres., Ryan DeMarco, Board Member, Gail Heckeler, Secretary, John White, Board Member
"Because no kid should have to go through this" – Tyler DeMarco