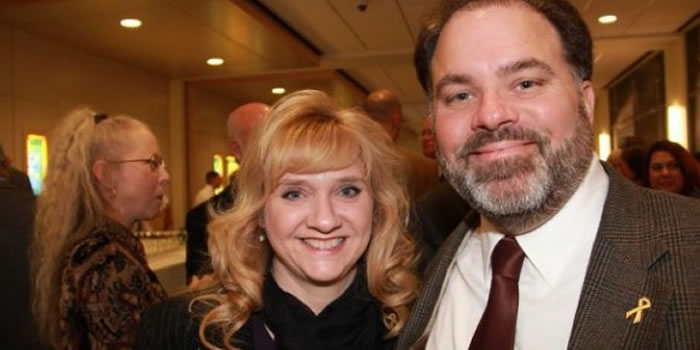 On Tuesday October 29th the Tyler DeMarco Foundation was invited to attend a reception at Albany Medical Center to join with other philanthropists who have committed support for the Albany Medical Center growth and expansion project. We were invited to tour the new six floor patient pavilion and provided an opportunity to tour the brand new Neonatal Intensive Care Unit "NICU". All we can say is… breath-taking! Having toured the old NICU, we walked this new facility in amazement and delight and with tears in our eyes.  What a magnificent accomplishment this facility is! Its state-of-the-art everything! These babies will continue to receive top level medical care in optimum conditions! We are so very proud to be connected to Albany Medical Center for the great work they are doing and the progress they are making in their effort to be the premiere, advanced technology, family centered care hospital in New York State!
When we entered this wonderful new patient pavilion, we walked into the main atrium area where we were promptly introduced to a wall dedicated to the individual supporters, organizations and foundations who contribute the funds that allow Albany Medical Center to move forward in this incredible and continuing expansion and enhancement project.  With a chill down my spine and pride in my heart, I viewed my son's name as I read the words… "The Tyler DeMarco Foundation".  Suddenly, I was struck. How could we possibly have gotten here? Suddenly, I was remembering the four years we spent practically living at this hospital. This hospital gave us hope; it gave us life; it gave us Tyler for four more years! I was then struck by shock and disbelief… it's still difficult to believe Tyler is gone; but he's not! Tyler is still here… he is fulfilling his wish, completing his challenge and as always, NOTHING can stop him… not even death! I'm choked up with sadness and pride.
The goal for this current expansion was set at 125 million dollars. As of last night, the hospital had raised 91.3 million dollars. That was until an anonymous donor contributed 15.5 million dollars bringing the hospital to 106.8 million; only 18.2 million dollars shy of their goal! Big numbers? Certainly. But the service and quality Albany Medical Center provides is priceless. Priceless, and right here in our own back yards!
The completion of this latest expansion will now allow the hospital to focus its attention on the Children's Hospital-Private Room Project for Childhood Cancer. This is the project that we, the Tyler DeMarco Foundation proposed in 2010 and campaign for. This private room project was Tyler's vision, his wish and is the mission of our foundation! This new project will occupy the old and now vacated, NICU.  Construction is scheduled to begin in 2014!  We refer to this project as "CHOC" Children's Hematology Oncology Center. This will be where every child with cancer requiring inpatient treatment will receive his/her specialized therapies and "family centered care" in the comfort of their own private room.
Our hope is that you will support us in our effort to raise funds to complete this project and to grow the Tyler DeMarco Foundation Endowment Fund to support "CHOC" in perpetuity. We kindly ask that you consider making a donation today because… "No kid should have to go through this!"
THANK YOU!